Power-On Energy Cook Off
2005-2006 ME 72 Engineering Design Laboratory and Competition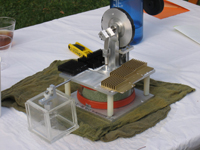 The Mission
The goal of the ME 72 contest is for student teams to design a small Stirling engine, which will be powered from waste heat from a low-temperature source. This small engine (power production on the order of 1 W) can be used to power a device of the student's choosing (such as a fan, a light bulb,…).
The Challenge
There are restrictions on size, source of heat, and materials that can be used in the engine. By midterms, students will be asked to submit a proposal that outlines the device design as well as specifications for power, speed, size and cost. A "Power On" (a contest modeled on a cook-off) will be held at the end of the quarter (December 1, 2005). The winner will be determined based on a range of factors including creative use of output power, quality of design and manufacturing, engine power and speed, as well as a determination of how well student devices meet design specification.
A Stirling engine is an externally-heated engine that can run on virtually any fuel or heat source. For the contest, the input heat to the engines will be from waste heat from a large cooking griddle in Chandler Dining Hall. During the contest, however, the griddle will only be used for powering the engines and not for cooking pancakes.
Team Number

Team Member

Team Name

1

Kevin Monajati
Jason Yosinski

Engine 9 - The Little Engine That Could

2

Tony Kelman
Andrew Pullin

Engine 13 - The Klanking Kacophony of Kogs and Krankshafts

3

Ambrus Csaszar
Steven Gray

Engine 17 - Powerhaus

4

Alexandria Grubbs
Bing Huo

Engine 28 - Thomas the Stirling Engine

5

Gabriel Molina
Rudra Roy

Engine 72 - The Stirling Powered Christmas Tree

6

Rebekah Eason
Gustavo Olm

Engine 11 - GrillMaster

7

Andrew Kwok
Daniel Oliver

Engine 15 - Team Ramrod

8

Mary Ollenburger
Vera Pavel

Engine 23 - Green Elephant

9

Joseph Koehler
Craig Montuori

Engine 42 - Clockwork Orange

10

Brian Hanley
Kurtis Ras

Engine 77 - STEVE